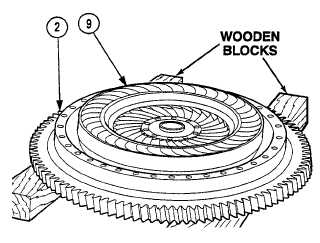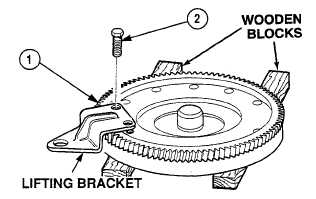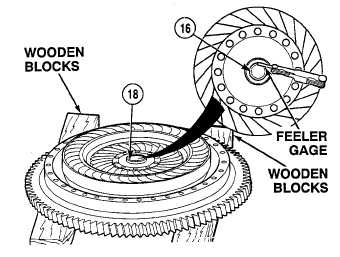 TM 9-2320-364-34-2
7-25
Hub splines on torque converter
turbine must be lined up with
internal splines of lockup clutch
plate before installation or
damage may result.
(10)
Install torque converter turbine (9) in
flywheel (2).
e.
Installation.
(1)
Install flywheel lifting bracket securely to
flywheel (1) with two screws (2).
Seal ring is in air tight package.
Do not open package until ready
to install seal ring.  Seal ring will
expand from humidity which will
cause clutch piston cavity to leak
and cause clutch slippage.
NOTE
If end clearance is less than
0.010 in. (0.25 mm), discard seal
ring and repeat Step (2).
(2)
Position seal ring (16) in flywheel hub (18)
and measure end clearance.  Remove seal
ring (16).