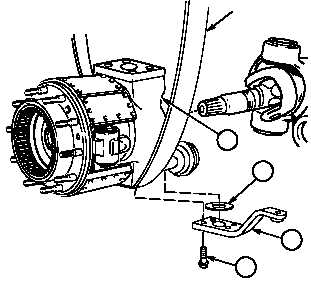 TM 9-2320-364-34-2
9-58     
9-10.    AXLE NO. 1, 2 AND 5 INNER AND OUTER AXLE SHAFT SEAL AND
BEARING REPLACEMENT (CONT).
Adhesives, solvents, and sealing
compounds can burn easily, can
give off harmful vapors, and are
harmful to skin and clothing.  To
avoid injury or death, keep away
from open fire and use in a well-
ventilated area.  If adhesive,
solvent, or sealing compound
gets on skin or clothing, wash
immediately with soap and
water.
(15)
Coat mating surface of steering swivel
arm (6) and pivot and spindle assembly (7)
with adhesive.
(16)
Install 0.039 in. (0.99 mm) shim (8) on
steering swivel arm (6).
(17)
Position steering swivel arm (6) on pivot
and spindle assembly (7).
(18)
With the aid of an assistant, install four
screws (5).  Using torque wrench and
multiplier, tighten screws first to 250 lb-ft
(339 N.m), then to 500 lb-ft (678 N.m) and
then to 720 to 800 lb-ft (976 to 1085 N.m).
5
6
8
3
LIFTING
DEVICE
7