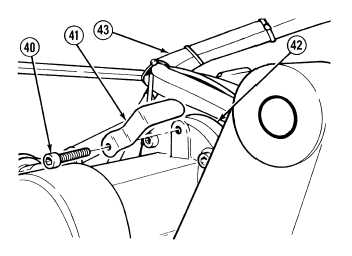 TM 9-2320-364-34-2
9-68     
9-11.  AXLE NO. 3 ASSEMBLY REPLACEMENT (CONT).
(27)
Remove screw (40) and bracket (41) from
differential assembly (42).
(28)
Position hoses (43) away from differential
assembly (42).
Axle No. 3 weighs 1780 lbs
(808 kg).  Attach a suitable
lifting device prior to removal to
prevent possible injury to
personnel.  Axle housing must
be chained to lifting device to
prevent an out of balance
condition when longitudinal
torque rod is removed.  Axle
could roll out of control causing
serious injury or death to
personnel.
(29)
Position transmission jack under Axle
No. 3 (3) and chain Axle No. 3 housing to
transmission jack.