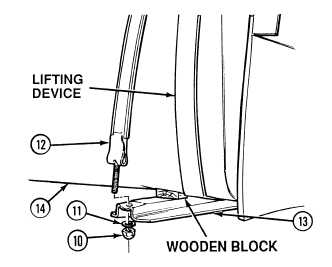 TM 9-2320-364-34-2
9-74     
9-11.  AXLE NO. 3 ASSEMBLY REPLACEMENT (CONT).
Main fuel tank weighs 50 to 700
lbs (23 to 318 kg) depending on
the quantity of fuel inside.
Attach suitable lifting device
prior to removal or installation to
prevent possible injury to
personnel.
(21)
Using lifting device, raise main fuel tank
(14) up slightly and remove block of wood.
(22)
Lower main fuel tank (14) onto fuel tank
bracket (13).
NOTE
Apply soap solution to fuel tank
straps before installing.
(23)
Insert studs of two fuel tank straps (12)
through holes in fuel tank brackets (13).
(24)
Install two washers (11) and locknuts (10)
on studs of fuel tank straps (12).  Tighten
locknuts 30 lb-ft (41 N.m).
(25)
Tap fuel tank straps (12) with soft faced
hammer.  Tighten locknuts (10) 30 lb-ft
(41 N.m).  Repeat step until torque remains
at 30 lb-ft (41 N.m).