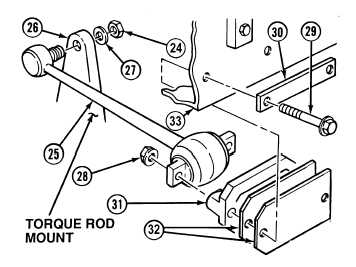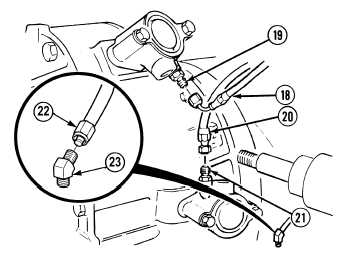 TM 9-2320-364-34-2
9-83
(9)
Remove air line 2422 (18) from fitting (19).
(10)
Remove air line 2359 (20) from fitting (21).
(11)
Disconnect air line 2893 (22) from axle
breather elbow (23) on left side of axle
tube.
(12)
Loosen locknut (24) until locknut is flush
with threaded end of torque rod (25).
Torque rod is under extreme
pressure when being pressed
from axle.  Torque rod can be
dangerous when it breaks loose
and could cause injury to
personnel.
NOTE
Strike torque rod mount with
soft face hammer while pressure
is being applied to torque rod.
(13)
Using hand jack kit, press tapered end of
torque rod (25) from Axle No. 4 (26) until
torque rod is loosened.
(14)
Remove locknut (24) and washer (27) from
torque rod (25).  Discard locknut.
NOTE
Tag and note number and size of
spacers.
(15)
With the aid of an assistant, remove two
locknuts (28), screws (29), plate (30), torque
rod (25), bracket (31) and spacers (32) from
frame (33).  Discard locknuts.