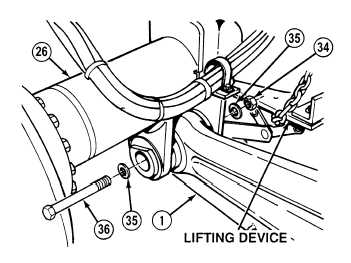 TM 9-2320-364-34-2
9-84     
9-12.  AXLE NO. 4 ASSEMBLY REPLACEMENT (CONT).
·
Axle No. 4 weighs 1,925 lbs (874 kg).  Attach a transmission jack prior to removal.  The
axle housing must be chained to transmission jack or an out-of-balance condition may
result.  Failure to comply may result in serious injury or death to personnel.
·
Keep fingers out of beam holes.  Failure to comply could result in serious injury to
personnel.
(16)
Position transmission jack under Axle No. 4 (26) and secure with chain.
(17)
With the aid of an assistant, remove
locknut (34), two washers (35) and
screw (36) from each equalizer beam (1).
Discard locknuts.