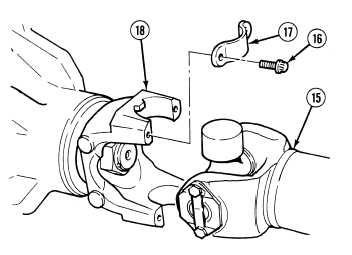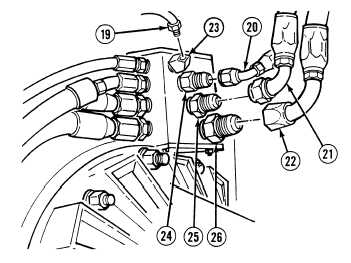 TM 9-2320-364-34-2
9-103
(25)
Install air line 2874 (19), air line 2369 (20),
air line 2144 (21) and air line 2098 (22) to
elbow (23) and fittings (24), (25) and (26).
Adhesives, solvents, and sealing
compound can burn easily, can
give off harmful vapors, and are
harmful to skin and clothing.  To
avoid injury or death, keep away
from open fire and use in well-
ventilated area.  If adhesive,
solvent, or sealing compound
gets on skin or clothing, wash
immediately with soap and
water.
(26)
Coat threads of four screws (16) with sealing
compound.
Driveshaft can weigh up to 100 lbs (45 kg).  Properly support driveshafts when removing
screws.  After screws and brackets are removed, driveshafts can fall and cause serious injury to
personnel.
(27)    Position driveshaft (15) in flange assembly (18).
(28)    Install two brackets (17) and four screws (16) to flange assembly (18).  Tighten screws 55 to 60 lb-ft (75
to 81 N.m).