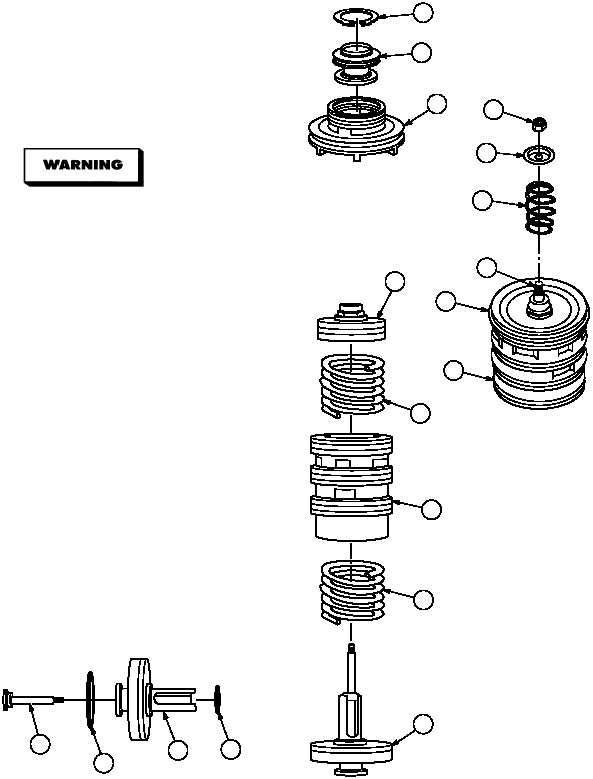 TM 9-2320-364-34-2
10-10     
10-3.  BRAKE TREADLE VALVE REPAIR (CONT).
Use care when removing retaining
rings.  Retaining rings are under
spring tension and can act as
projectiles when released and
causing injury to personnel.
(13)
Remove retaining ring (19) from piston (16).
(14)
Remove and discard inlet cartridge (20)
from piston (16).
Internal pistons are under moderate
spring tension.  Keep pistons
compressed when removing locknut.
Failure to comply may result in
injury to personnel.
(15)
With the aid of an assistant, compress
pistons (21) and (22) and remove locknut
(23), guide (24), and spring (25) from stem
bolt (26).  Discard locknut and spring.
NOTE
Thin gage spring is located on relay
piston side of lower static piston
housing.
(16)
Remove lower piston (21), spring (27),
spring (28), and relay piston (22) from
lower static piston body (29).  Discard
springs.
(17)
Remove stem bolt (26) from relay piston
(22).
(18)
Remove preformed packing (30) and
preformed packing (31) from relay piston
(22).  Discard preformed packings.
20
16
19
23
21
22
26
24
25
29
27
28
30
31
21
22
22
26