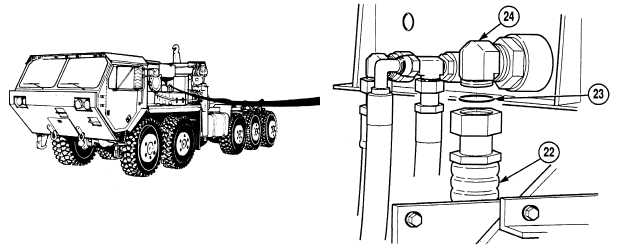 TM 9-2320-364-34-3
13-70     
13-13.  RIGHT SIDE POWER MODULE FRAME REPLACEMENT (CONT).
(9)
Remove hose 2278 (22) and preformed packing (23) from elbow (24).  Discard preformed packing.
Power module frame weighs 275 lbs (125 kg).  Attach suitable lifting device prior to
removal to prevent possible injury to personnel.
(10)
Attach lifting device to power module frame (4).
NOTE
Lower and upper spreader bar assemblies are removed the same way.  Upper one is shown.
(11)
Remove screw (25), sleeve (26), four washers (27) and washer (28) from spreader bar assembly (29) and
power module frame (4).