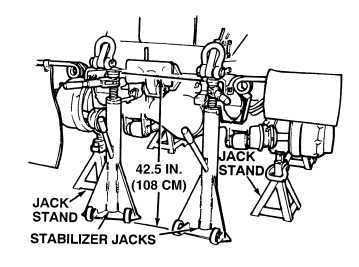 TM 9-2320-364-34-3
14-5
a.
Removal.
Ensure truck frame is securely supported before removing spring assembly.  If truck falls,
serious injury to personnel or death may result.
NOTE
·
Front and rear spring assemblies are removed in the same way, with some minor
differences.  These differences are noted in the text of this task.
·
Left and right sides are removed in the same way.  Left rear spring assembly is shown.
·
Even if only one spring assembly is being replaced, both frame rails need to be raised
evenly to the same height.  Failure to raise both frame rails to the same height make
installation of spring assembly very difficult.
(1)
Using lifting device, raise each frame rail (1) until weight of truck is off spring assembly (2).
NOTE
Stabilizer jacks must be adjusted
to 42-1/2 in. (108 cm) high.
(2)
Position stabilizer jack under each frame
rail (1) and lower frame rails onto stabilizer
jacks.