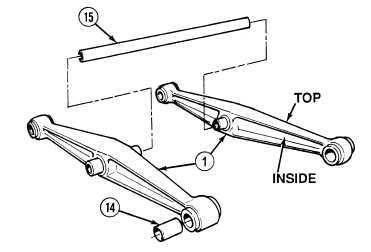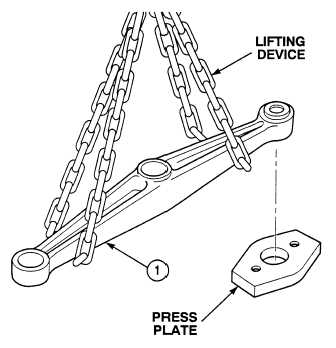 TM 9-2320-364-34-3
14-18     
14-5.  FRONT AND REAR TANDEM EQUALIZER BEAM REPAIR (CONT).
(10)
Remove two spacers (14) from each
equalizer beam (1).
NOTE
Tag and mark TOP and INSIDE
of equalizer beams before
removing center cross tube.
(11)
Remove center cross tube (15) from
equalizer beams (1).
b.
Disassembly.
(1)
Position press plate on press.
Equalizer beam weighs 212 lbs
(96 kg).  Attach suitable lifting
device prior to removal to
prevent possible injury to
personnel.
(2)
Using a lifting device, position equalizer
beam (1) on press plate.