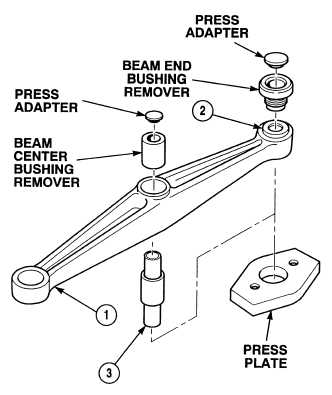 TM 9-2320-364-34-3
14-19
Force required to remove beam end bushings and beam center bushing may exceed 30 tons (27
metric tons).  Use a press of 60-ton (54 metric tons) capacity or more to remove and install
bushings.  Use care when pressing out bushings to prevent serious personal injury or death.
Always wear eye protection to prevent injury when operating press.
Ensure beam end bushing remover is correctly aligned on the bushing shell before
attempting start pressing operation.  Also check that equalizer beam is correctly aligned on
press plate so that there is clearance for old beam end bushing to drop through.
(3)
Using beam end bushing remover and press
adapter, press beam end bushing (2) out of
equalizer beam (1).  Discard beam end
bushing.
(4)
Repeat Steps (1) through (3) for other beam
end bushing (2).
(5)
Inspect outer edge of beam center
bushing (3).  If outer edge of beam center
bushing is "mushroomed" over face of
equalizer beam (1), chisel or file
mushroomed steel away.
NOTE
Center bushing remover tools for
front and rear equalizer beams are
very similar.  Use larger diameter
remover for rear beams and smaller
diameter remover for front beams.
(6)
Using beam center bushing remover and
press adapter, press beam center bushing (3)
out of equalizer beam (1).  Discard beam
center bushing.
c.
Cleaning/Inspection.
·
Drycleaning Solvent (P-D-680) is TOXIC and flammable.  Wear protective goggles, face
shield, and gloves; use only in a well-ventilated area; avoid contact with skin, eyes, and
clothes, and do not breathe vapors.  Keep away from heat or flame.  Never smoke when
using solvent. The flashpoint for Type II Drycleaning Solvent is 140 degrees F (60 degrees
C) and Type III Drycleaning Solvent is 200 degrees F (93 degrees C).  Failure to do so may
result in injury or death to personnel.
·
If personnel become dizzy while using cleaning solvent, immediately get fresh air and
medical help.  If solvent contacts skin or clothes, flush with cold water.  If solvent contacts
eyes, immediately flush eyes with water and get immediate medical attention.
(1)
Clean equalizer beam with drycleaning solvent.