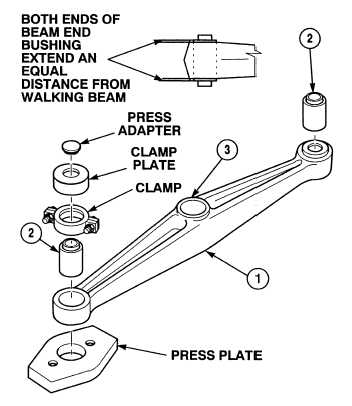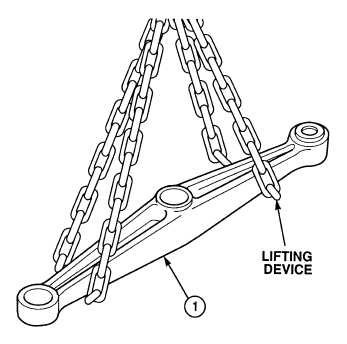 TM 9-2320-364-34-3
14-21
NOTE
Clamp compresses rubber
between the inner and outer
sleeve of beam end bushing to
allow clamp plate to seat
properly.
(5)
Attach clamp onto beam end bushing (2).
Tighten nuts of clamp.
(6)
Using clamp, clamp plate and press adapter,
press beam end bushing (2) into equalizer
beam (1) so both ends of beam end bushing
extend an equal distance from side of
equalizer beam.
(7)
Perform Steps (5) and (6) for other beam
end bushing (2).
Corrosion compound contains
alkali.  Do not get in eyes.  Wear
goggles/safety glasses when using.
Avoid contact with skin.  In case of
contact, immediately wash area with
soap and water.  If eyes are contacted,
flush eyes with large amounts of water
for at least 15 minutes and get
immediate medical attention.
(8)
Coat both ends of beam center bushing (3)
with corrosion preventive compound.
Equalizer beam weighs 212 lbs
(96 kg).  Attach suitable lifting
device prior to installation to
prevent possible injury to
personnel.
(9)
Using a lifting device, remove equalizer
beam (1) from press and lower to ground.