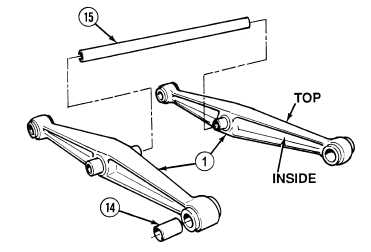 TM 9-2320-364-34-3
14-22     
14-5.  FRONT AND REAR TANDEM EQUALIZER BEAM REPAIR (CONT).
e.
Installation.
Rust preventive contains alkali.  
Do not get in eyes.  Wear
goggles/safety glasses when using
rust preventive.  Avoid contact
with skin.  In case of contact with
rust preventive, immediately
wash area with soap and water.  
If rust preventive contacts eyes,
flush eyes with large amounts of
water for at least 15 minutes and
get immediate medical attention.
NOTE
·
Front and rear tandem
equalizer beams are
installed in the same way.
Rear tandem is shown.
·
Left and right equalizer
beams are installed in the
same way.  Left side of rear
tandem is shown.
(1)
Apply rust preventive to both ends of center
cross tube (15) and four spacers (14).
NOTE
Ensure equalizer beams are
assembled on cross tube
correctly.  Make sure markings
TOP and INSIDE are aligned
correctly.
(2)
Install two equalizer beams (1) on center
cross tube (15).
(3)
Install two spacers (14) in each equalizer
beam (1).