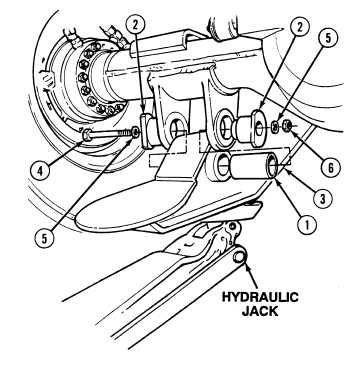 TM 9-2320-364-34-3
14-37
c.
Trailing Beam Bracket Collar Adjustment.
Rust preventive contains alkali.  
Do not get in eyes.  Wear
goggles/safety glasses when using
rust preventive.  Avoid contact
with skin.  In case of contact with
rust preventive, immediately
wash area with soap and water.  
If rust preventive contacts eyes,
flush eyes with large amounts of
water for at least 15 minutes and
get immediate medical attention.
(1)
Coat outside diameter of spacer (1) and two
adapters (2) with rust preventive.
(2)
Install spacer (1) in trailing beam (3).
The trailing beam weighs 150 lbs
(68 kg).  Use a hydraulic jack to
support axle end of trailing beam
prior to installation to prevent
possible injury to personnel.
NOTE
The following step may require
use of a soft faced hammer to
position trailing beam.
(3)
Using a hydraulic jack and the aid of an
assistant, align axle end of trailing beam (3).
(4)
Install two adapters (2) in trailing beam (3).
(5)
Apply lubricating oil to threads of screw (4).
(6)
Position screw (4), two washers (5) and
locknut (6) on trailing beam (3).
(7)
With the aid of an assistant, tighten
locknut (6) to 210 to 240 lb-ft
(285 to 356 N.m).