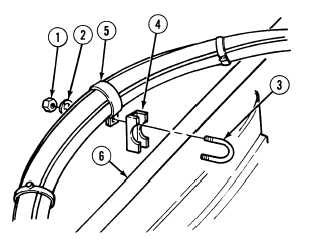 TM 9-2320-364-34-3
14-59
(f)
Install cushion clip (5), clamp half (4)
and U-bolt (3) on torque rod (6) with
two lockwashers (2) and nuts (1).
d.
Axle No. 4 Longitudinal Torque Rod Replacement.
(1)
Removal.
NOTE
Axles No. 4 and No. 5 longitudinal torque rods share mounting hardware.
(a)
With the aid of an assistant, remove two locknuts (1), four washers (2), two screws (3) and air
manifold bracket (4) from axle (5).  Discard locknuts.