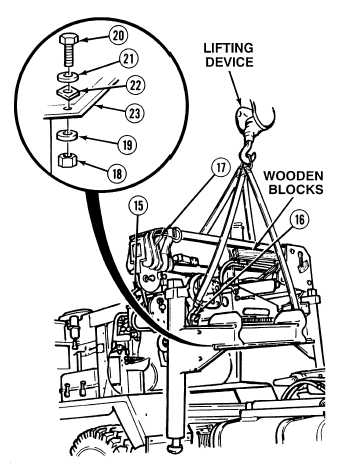 TM 9-2320-364-34-3
16-4     
16-2.  CRANE ASSEMBLY REPLACEMENT (CONT).
·
Tag and mark connector prior to removal.
·
Cable connector is located above Air reservoir No. 2.
(3)
Disconnect connector (13) from MC29 connector (14).
Crane weighs 4,700 lbs (2,134 kg).
Attach suitable lifting device
prior to removal to prevent
possible injury to personnel.
(4)
Attach lifting device to two forward lifting
brackets (15) and two rear lifting
brackets (16) on crane (17).
(5)
Position two wooden blocks between lifting
device and crane (17)
(6)
With the aid of an assistant, remove 12
locknuts (18), washers (19), screws (20),
washers (21) and spacers (22) from left and
right crane mounts (23).  Discard locknuts.
Move hydraulic tubes and hoses
out of way before removing
crane from truck.  Failure to
comply may result in damage to
equipment.
(7)
With the aid of an assistant, raise crane (17)
approximately 2 in. (51 mm) and ensure
load is balanced.