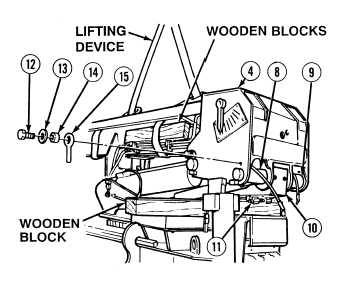 TM 9-2320-364-34-3
16-10     
16-3.  BOOM ASSEMBLY REPAIR (CONT).
The crane hydraulic system operates at oil pressures up to 3,100 psi (21,375 kPa).  Never
disconnect any hydraulic line or fitting without first dropping pressure to zero.  Failure to
comply may result in serious injury or death to personnel.
NOTE
·
Tag and mark hydraulic hoses prior to removal.
·
Cap hydraulic hoses and fittings after removal.
(2)
Position drain pan under crane.
(3)
Disconnect five hoses (5) from fittings (6) and remove five preformed packings (7).  Discard preformed
packings.
Boom weighs 2,100 lbs (953 kg).
Attach suitable lifting device
prior to removal to prevent
possible injury to personnel.
(4)
Position two wooden blocks on both sides of
boom assembly (4)
(5)
Install lifting device over blocks on boom
assembly (4).
(6)
Position wooden block under tension
cylinder (8) and erection cylinder (9),
between mast (10) and mast valve base
mount (11).
(7)
Remove two screws (12), washers (13),
bushings (14) and lock pins (15) from boom
assembly (4).