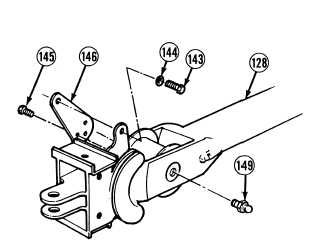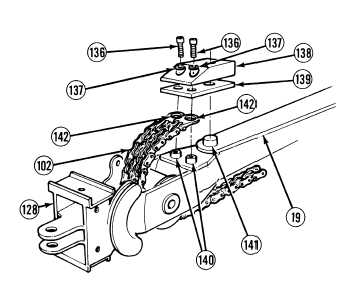 TM 9-2320-364-34-3
16-32     
16-3.  BOOM ASSEMBLY REPAIR (CONT).
Adhesives, solvents, and sealing
compounds can burn easily, can
give off harmful vapors, and are
harmful to skin and clothing.  To
avoid injury or death, keep away
from open fire and use in a well-
ventilated area.  If adhesive,
solvent, or sealing compound
gets on skin or clothing, wash
immediately with soap and
water.
(13)
Apply adhesive sealant to threads of four
screws (145) and (143).
(14)
Install pin support plate (146) in tube
weldment (128) with washer (144) and four
screws (143) and (145).  Tighten screws to
20 lb-ft (27.1 N.m).
NOTE
Grease fitting must be installed to
face toward rear of tube weldment.
(15)
Install grease fitting (149) in pin (147).
NOTE
Chain installation is done with
tube weldment upside down.
(16)
Align chain assembly (102) through
tube weldment (128).
(17)
Apply sealing compound to threads of three
screws (136).
(18)
Install clevis (142), shim (139) and wear
pad (138) on tube weldment (128) with three
pins (140) and (141), washers (137) and
screws (136).  Tighten screws to 168 lb-in
(19 N.m).