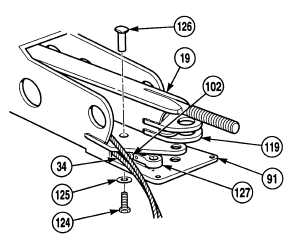 TM 9-2320-364-34-3
16-34     
16-3.  BOOM ASSEMBLY REPAIR (CONT).
(25)
Apply grease to inside top and bottom of structural section (91).
Structural section weighs 175 lbs (79 kg).  Attach suitable lifting device prior to removal to
prevent possible injury to personnel.
(26)
Using lifting device, position structural section (91) on opposite side.
NOTE
Cable must be held, paying out long part and evening cable at rear.  Cable must pay out
completely during installation and become level under weldment.
(27)
With the aid of an assistant, hold cable (34)
and install chain assembly (102), cable,
equalizer link weldment (19) and tube
weldment (128) into structural section (91).
Adhesives, solvents, and sealing
compounds can burn easily, can
give off harmful vapors, and are
harmful to skin and clothing.  To
avoid injury or death, keep away
from open fire and use in a well-
ventilated area.  If adhesive,
solvent, or sealing compound
gets on skin or clothing, wash
immediately with soap and
water.
(28)
Apply sealing compound to threads of two
screws (124).
NOTE
Screws do not fit up tight against
frame.
(29)
Install chain clevis (127) on structural
section (91) with two pins (126),
washers (125) and screws (124).