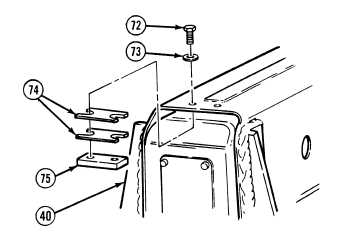 TM 9-2320-364-34-3
16-41
(74)    Position shims (74) and wear pad (75) on
outer-mid section (40).
At least 0.06 in. (1.5 mm) of
clearance is required between
highest spot on fly section and
bottom of wear pad or section
may not operate properly.
Damage to equipment may result.
(75)    Check clearance between high point of fly
section (64) and wear pad (75).  Add or
subtract shim (74) as required.
Adhesives, solvents, and sealing
compounds can burn easily, can
give off harmful vapors, and are
harmful to skin and clothing.  To
avoid injury or death, keep away
from open fire and use in a well-
ventilated area.  If adhesive,
solvent, or sealing compound
gets on skin or clothing, wash
immediately with soap and
water.
(76)    Apply sealing compound to threads of two
screws (72).
(77)    Install wear pad (75) and shims (74) on
upper front of outer-mid section (40) with
two washers (73) and screws (72).  Tighten
screws to 31 lb-ft (42 N.m).