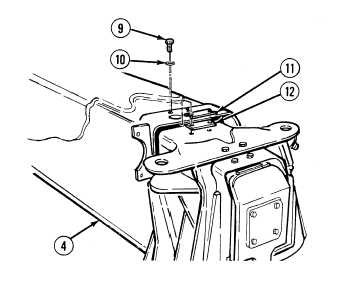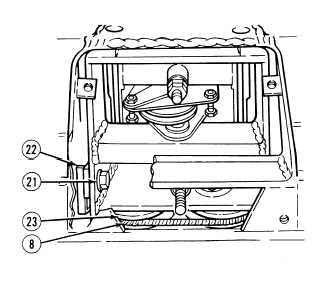 TM 9-2320-364-34-3
16-52     
16-3.  BOOM ASSEMBLY REPAIR (CONT).
Adhesives, solvents, and sealing
compounds can burn easily, can
give off harmful vapors, and are
harmful to skin and clothing.  To
avoid injury or death, keep away
from open fire and use in a well-
ventilated area.  If adhesive,
solvent, or sealing compound gets
on skin or clothing, wash
immediately with soap and
water.
(137)
Apply sealing compound to threads of two
screws (9).
(138)
Install wear pad (12) and shims (11) on base
section (4) with two washers (10) and
screws (9).  Tighten screws to 31 lb-ft
(42 N.m).
(139)
Apply grease to wear pad (12).
(140)
Reach through access hole in rear of base
section (4) and install cable keeper (22) over
cable (8) and roller guide (23) and tighten
screw (21) to 108 lb-in (12 N.m).