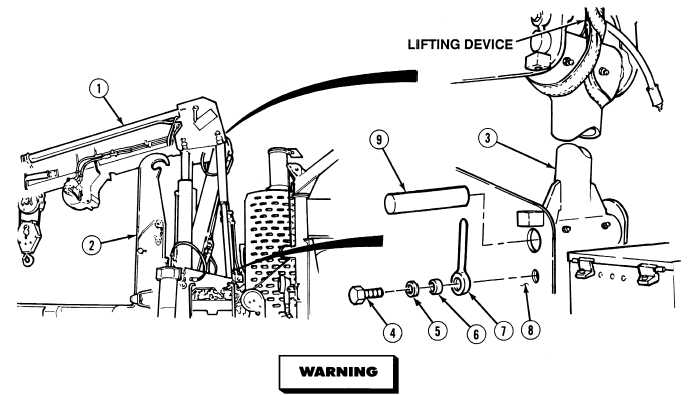 TM 9-2320-364-34-3
16-71
Materials/Parts
Compound, Antiseize (Item 14, Appendix B)
Sealing Compound (Item 56, Appendix B)
This task covers:
a.  Removal
b.   Installation
c.  Follow-On Maintenance
INITIAL SETUP
Personnel Required
Two
Equipment Condition
Crane erected, (TM 9-2320-364-10)
Engine OFF. (TM 9-2320-364-10)
Wheels chocked, (TM 9-2320-364-10)
Tools and Special Tools
Tool Kit, General Mechanic's
(Item 240, Appendix F)
Wrench, Torque (0-175 lb-ft [0-237 N.m])
(Item 277, Appendix F)
Lifting Device, Minimum Capacity 50 lb
(23 kg)
16-8.  TENSION LINK REPLACEMENT.
Ensure boom is fully supported by the LHS hook.  Failure to support boom with LHS hook
will cause boom to drop and may result in serious injury or death to personnel.
(1)
Support boom (1) with LHS hook (2).
(2)
Attach lifting device around tension link (3).
(3)
Remove screw (4), washer (5), bushing (6) and lock pin (7) from turntable (8) and tension link (3).
(4)
Drive pin (9) out from link (3) and turntable (8).