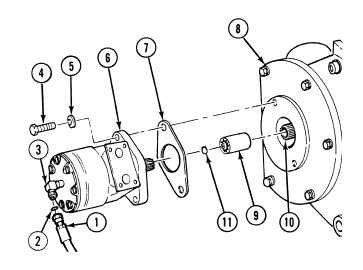 TM 9-2320-364-34-3
16-90     
16-12.  HYDRAULIC HOIST MOTOR REPLACEMENT (CONT).
NOTE
Note location and position of
coupling prior to removal.
(4)
Remove coupling (9) from spline shaft (10).
Use care when removing
retaining rings.  Retaining rings
are under tension and can act as
projectiles when released
causing injury to personnel.
NOTE
Perform Step (5) if retaining
ring is damaged.
(5)
Remove retaining ring (11) from coupling (9).  Discard retaining ring.
b.
Installation.
NOTE
Perform Step (1) if retaining ring was removed.
(1)
Install retaining ring (11) in coupling (9).
NOTE
Install coupling in location position noted in removal.
(2)
Install coupling (9) on splined shaft (10) in hoist drum (8).
Adhesives, solvents, and sealing compounds can burn easily, can give off harmful vapors, and
are harmful to skin and clothing.  To avoid injury or death, keep away from open fire and use
in a well-ventilated area.  If adhesive, solvent, or sealing compound gets on skin or clothing,
wash immediately with soap and water.
(3)
Apply sealing compound to threads of two screws (4).
(4)
Install gasket (7) and motor (6) on drum (8) with two lockwashers (5) and screws (4).  Tighten screws to
68 lb-ft (92 N.m).
(5)
Apply hydraulic oil to preformed packing (2).
(6)
Install preformed packing (2) and connect hose (1) on elbow (3).
c.
Follow-On  Maintenance:
·
Install hoist motor valve, (Para 16-13).
·
Load test crane, (Para 16-32).
·
Remove wheel chocks, (TM 9-2320-364-10).
END OF TASK