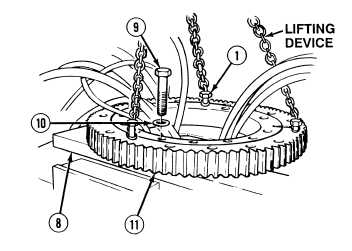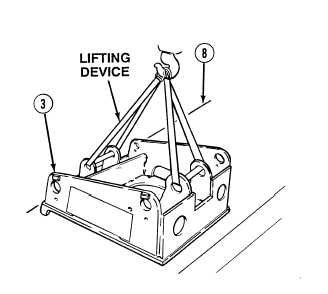 TM 9-2320-364-34-3
16-114
16-16.  TURNTABLE AND GEAR REPLACEMENT (CONT).
NOTE
Letter G stamped on bearing faces
down and centered on subframe.
(2)
Install gear (11) on subframe (8) and pull
hoses through gear (11).
Adhesives, solvents, and sealing
compounds can burn easily, can
give off harmful vapors, and are
harmful to skin and clothing.  To
avoid injury or death, keep away
from open fire and use in a well-
ventilated area.  If adhesive,
solvent, or sealing compound
gets on skin or clothing, wash
immediately with soap and
water.
(3)
Apply sealing compound on threads of 16
screws (9).
(4)
Install 16 screws (9) and washers (10) in
gear (11).  Tighten screws to 333 lb-ft
(452 N.m).
(5)
Remove three screws (1) and lifting device
from gear (11).
Turntable weighs 150 lbs (68 kg).
Attach suitable lifting device prior
to removal to prevent possible
injury to personnel.
(6)
Attach lifting device to turntable (3).
NOTE
Turntable must be positioned
parallel to truck.
(7)
Position turntable (3) on crane subframe (8)
and pull hoses through turntable.