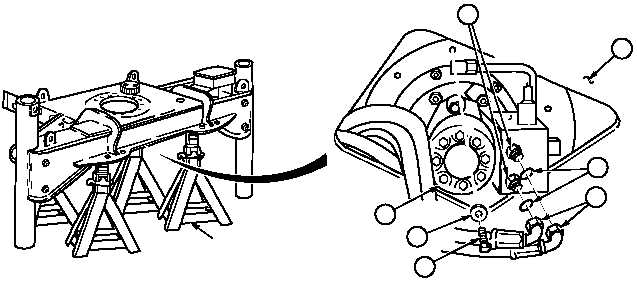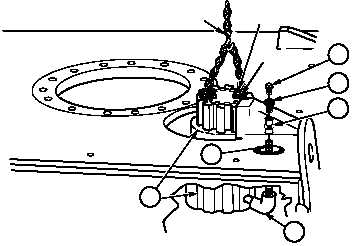 TM 9-2320-364-34-3
16-122
16-18.  SWING DRIVE GEAR REDUCER REPLACEMENT (CONT).
(2)
Attach lifting device to swing drive gear
reducer (3) with two screws and washers.
Swing drive gear reducer weighs
140 lbs (64 kg).  Attach suitable
lifting device prior to removal to
prevent possible injury
to personnel.
(3)
Take-up slack in lifting device.
(4)
Remove vent (4), reducer (5) and adapter
(6) from fitting (7).
(5)
Remove fitting (7) from elbow and
fitting (8).
(6)
Remove elbow and fitting (8) from swing
drive gear reducer (3).
NOTE
Cap and plug hydraulic hoses and tubes after removal.
(7)
Remove two hoses (9) and preformed packings (10) from fittings (11).  Discard preformed packings.
NOTE
Swivel socket may be needed to remove some screws.
(8)
Remove nine screws (12) and washers (13) from under subframe assembly (14) and swing drive gear
reducer (3).
14
9
10
11
12
13
3
JACKSTANDS
LIFTING
DEVICE
WASHER
SCREW
4
5
6
7
8
3