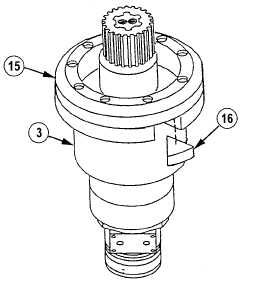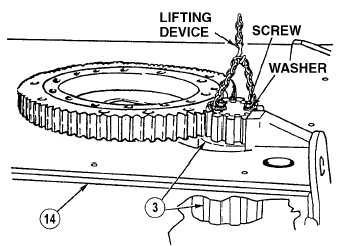 TM 9-2320-364-34-3
16-125
(6)
Position two wedges (16) in "V" shaped
cut-outs on swing drive gear reducer (3) and
against spacer ring (15).
Unsafe welding practices can
cause serious injury from fire,
explosions, or harmful agents.
Allow only authorized personnel
to weld or cut metals, and follow
safety precautions in TC 9-237.
Protective clothing and goggles
must be worn; adequate
protective equipment used, a
suitable fire extinguisher kept
nearby; and requirements of
TC 9-237 strictly followed.
Do not weld wedge to swing
drive gear reducer.  Only weld
wedge to spacer ring or damage
to equipment will result.
(7)
Weld two wedges (16) to spacer ring (15) in
accordance to TC 9-237.
(8)
Install lifting device on swing drive gear
reducer (3) with two washers and screws.
(9)
Position swing drive gear reducer (3) under
subframe assembly (14).
Swing drive gear reducer weighs
140 lbs. (64 kg).  Attach suitable
lifting device prior to installation
to prevent possible injury to
personnel.
(10)
Position lifting device through subframe
assembly (14) and attach to chain.
(11)
With the aid of an assistant, use lifting
device and position swing drive gear
reducer (3) in subframe assembly (14).