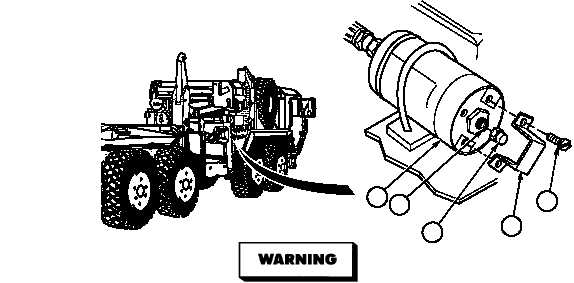 TM 9-2320-364-34-3
16-141
This task covers:
a.  Service
b.   Follow-On Maintenance
INITIAL SETUP
Equipment Condition
Engine OFF, (TM 9-2320-364-10)
Wheels chocked, (TM 9-2320-364-10)
Tools and Special Tools
Tool Kit, General Mechanic's
(Item 240, Appendix F)
Charging Kit, Pressure
(Item 30, Appendix F)
16-22.  ACCUMULATOR SERVICE.
a.
Service.
·
The crane hydraulics system operates at oil pressures up to 3,100 psi (21,375 kPa).  Never
disconnect any hydraulic line or fitting without first dropping pressure to zero.  Failure to
comply may result in serious injury or death to personnel.
·
Accumulator testing and servicing can expose personnel to high pressure nitrogen.  Use of
proper safety equipment is required to prevent serious injury or death.
NOTE
·
Accumulator can only be accurately serviced when there is 0 psi (0 kPa) present in all crane
hydraulic circuits.
·
Ensure that all crane control levers are manually operated to the full up and down positions.
Failure to comply could result in trapped hydraulic pressure, resulting in incorrect
accumulator service readings.
(1)
Remove two screws (1) and guard (2) from accumulator (3).
(2)
Remove valve stem cap (4) from valve stem (5).
4
2
1
5
3