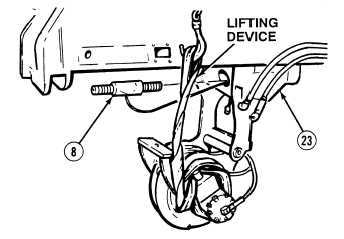 TM 9-2320-364-34-3
16-164
16-25.  TENSION LOAD CELL REPLACEMENT (CONT).
The crane hydraulic system operates at oil pressures up to 3,100 psi (21,375 kPa).  Never
disconnect any hydraulic line or fitting without first dropping the pressure to zero.  Failure
to comply may result in serious injury or death to personnel.
NOTE
·
Tag and mark all hydraulic hoses before disconnecting.
·
Cap and plug hydraulic hoses and hoist motor valve after removal.
(10)
Disconnect two hoses (24) and preformed packings (25) from hoist motor valve (26).  Discard preformed
packings.
(11)
Disconnect hose (27) and preformed packing (28) from brake bleeder valve (29).  Discard preformed
packing.
(12)
Carefully remove tension load cell (8) from
hoist mount (23).