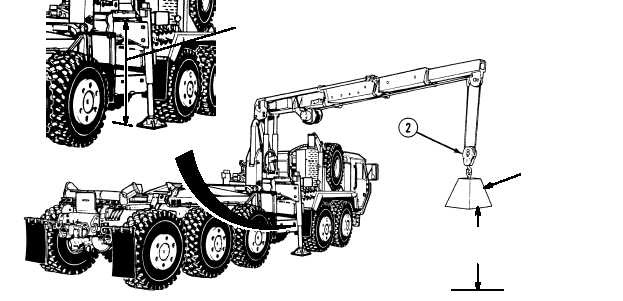 TM 9-2320-364-34-3
16-222
16-32.  CRANE LOAD TEST (CONT).
Do not stand under crane.  Mechanical failure and operator error can cause injury or death
to personnel.
NOTE
Allow thirty minutes between Step (20) and Step (21).  If measurement F exceeds one inch,
notify GS maintenance for repair.
(21)
Repeat Step (20).  Record as measurement E.
(22)
Subtract measurement E from measurement D, and record as measurement F.
(23)
Lower test weight to ground using hoist.
(24)
Disconnect hook block (2) from test weight.
b.
Follow-on  Maintenance:
·
Stow crane, (TM 9-2320-364-10).
·
Remove wheel chocks, (TM 9-2320-364-10).
END OF TASK
MEASUREMENTS
"A" + "B"
TEST WEIGHT
3890-3910 LBS
(1766-1775 KG)
MEASUREMENTS
"D" + "E"