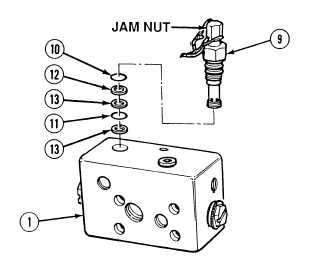 TM 9-2320-364-34-3
16-236
16-36.  SELF-RECOVERY WINCH (SRW) COUNTERBALANCE VALVE
REPAIR (CONT).
d.
Assembly.
Relief valve is easily scratched or
dented.  Use extreme care when
installing preformed packings
and backup rings in relief valve
or damage to equipment may
result.
NOTE
Cup side of backup ring should
face preformed packing upon
installation.
(1)
Apply hydraulic oil to preformed
packings (10) and (11) and backup rings
(12) and (13).
(2)
Install two preformed packings (10) and
(11) and two backup rings (12) and (13) in
relief valve (9).
Jam nut on relief valve is preset
at factory.  Damage to equipment
may result if jam nut is tampered
with or removed.
(3)
Install relief valve (9) in counterbalance
valve assembly (1).  Tighten relief valve 30
to 36 lb-ft (41 to 49 N.m).