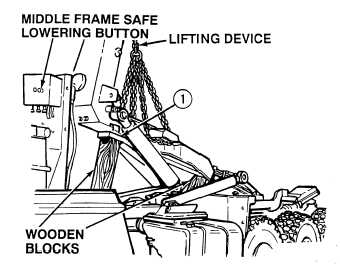 TM 9-2320-364-34-3
16-272
16-41.  LOAD HANDLING SYSTEM (LHS) MIDDLE FRAME TUBE REPLACEMENT
(CONT).
Middle frame and hook arm
combined weight is 2,100 lbs
(953 kg).  Hook arm cylinders
weigh 210 lbs (95 kg) each.
Attach suitable lifting device
prior to installation to prevent
possible injury to personnel.
(12)
Attach lifting device to middle frame (1).
Do not allow wooden blocks
supporting middle frame to fall
when middle frame is lifted, or
damage to equipment may
result.
(13)
With the aid of an assistant, press middle
frame safe lowering button while using
lifting device to raise middle frame (1).
(14)
Remove wooden blocks and then lower
middle frame (1).
(15)
Remove lifting device from middle
frame (1).
c.
Follow-On  Maintenance:
·
Install LHS main junction box cover, (TM 9-2320-364-20).
·
Remove wheel chocks, (TM 9-2320-364-10).
END OF TASK