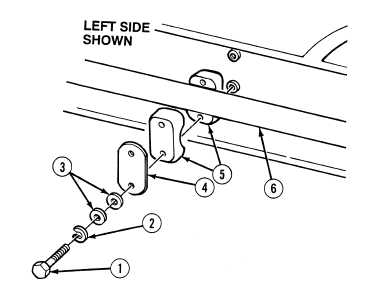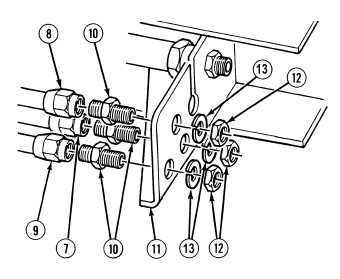 TM 9-2320-364-34-3
16-279
NOTE
Repeat Steps (15) and (16) for
right side hoses 2588, 2888 and
2889.
(15)
Install three adapters (10) at front of
compression frame (11) with three
lockwashers (13) and nuts (12).
(16)
Install hoses 2887 (7), 2666 (8) and 2890
(9) on three adapters (10).
Adhesives, solvents, and sealing
compounds can burn easily, can
give off harmful vapors, and are
harmful to skin and clothing.  To
avoid injury or death, keep away
from open fire and use in a well-
ventilated area.  If adhesive,
solvent, or sealing compound
gets on skin or clothing, wash
immediately with soap and
water.
(17)
Apply sealing compound to threads of
screws (1).
(18)
Install eight tube clamp halves (5) and four
cover plates (4) on left side compression
frame tube (6) with sixteen washers (3),
eight lockwashers (2) and screws (1).