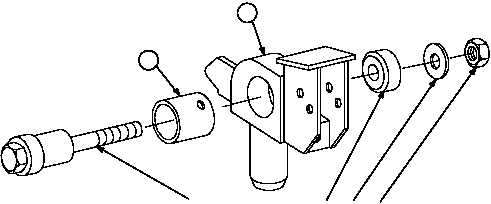 TM 9-2320-364-34-3
16-300
16-44.  CONTAINER HANDLING UNIT (CHU) PIVOT REPAIR (CONT).
c.
Installation.
Adhesives, solvents, and sealing compounds can burn easily, can give off harmful vapors,
and are harmful to skin and clothing.  To avoid injury or death, keep away from open fire
and use in well-ventilated area.  If adhesive, solvent, or sealing compound gets on skin or
clothing, wash immediately with soap and water.
NOTE
·
Left side and right side pivot are identical. Right side is shown.
·
Apply light coat of grease to threads of removal/installation tool prior to use.
(1)
Apply light coat of sealing compound to bushing (1).
(2)
Align hole in bushing (1) with grease fitting hole in slider pivot (2) and using removal/installation tool
(six pieces),  install bushing into slider pivot.
d.
Follow-On  Maintenance:
·
Install pivot, (TM 9-2320-364-20).
END OF TASK
1
2
REMOVAL/INSTALLATION TOOL