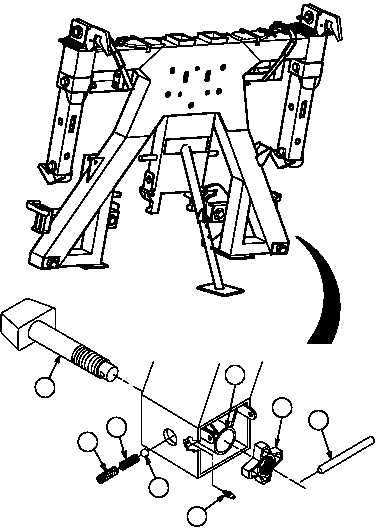 TM 9-2320-364-34-3
16-305
a.
Removal.
·
CARC paint contains isocyanate (HDI) which is highly irritating to skin and respiratory system.
High concentrations of HDI can produce symptoms of itching and reddening of skin, a burning
sensation in throat and nose and watering of the eyes.  In extreme concentrations, HDI can cause
cough, shortness of breath, pain during respiration, increased sputum production and chest
tightness.  The following precautions must be taken whenever using CARC paint:
·
NEVER weld or cut CARC-coated materials.
NOTE
There are two lower container
lock handles.  Both are removed
the same way.  Right side is
shown.
(1)
Using a wire scratch brush, remove CARC
paint from area around welding between
handle (1) and stem (2).
(2)
Grind off weld from handle (1) and remove
from stem (2).  Discard handle.
NOTE
Grind stem as necessary to
remove handnut.
(3)
Remove handnut (3) from stem (2).
Use extreme care when
compressing, releasing,
removing, or installing springs.
Springs are under tension and can
act as projectiles when released.
Ensure proper eye protection is
worn to prevent injury to
personnel.
(4)
Remove setscrew (4), spring (5) and ball (6)
from container lock (7).
(5)
Remove stem (2) from container lock (7).
NOTE
Perform Step (6) if grease fitting
is damaged.
(6)
Remove grease fitting (8) from container
lock (7).
1
2
3
4
5
6
7
8