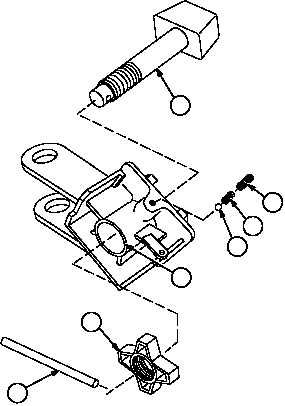 TM 9-2320-364-34-3
16-311
d.
Assembly.
NOTE
There are two lower container
lock handles.  Both are installed
the same way.  Right side is
shown.
(1)
Position stem (2) in container lock (7).
(2)
Position handnut (3) on stem (2).
Unsafe welding practices can
cause serious injury from fire,
explosions, or harmful agents.
Allow only authorized personnel
to weld or cut metals, and follow
safety precautions in TC 9-237.
Protective clothing and goggles
must be worn; adequate
protective equipment used, a
suitable fire extinguisher kept
nearby; and requirements of
TC 9-237 strictly followed.
(3)
Position handle (1) in stem (2).
(4)
Tack weld handle (1) to stem (2) in
accordance with TC 9-237.
NOTE
Setscrew is properly installed
when head is flush with container
lock.
(5)
Install ball (6), spring (5) and setscrew (4) in
container lock (7).
2
4
5
6
7
1
3