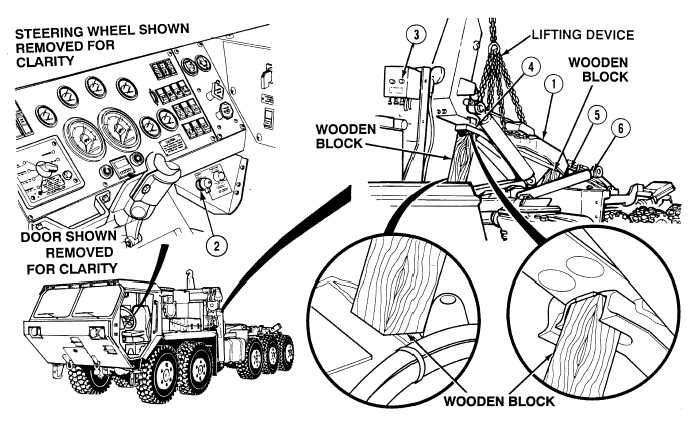 TM 9-2320-364-34-3
17-66     
17-13.  LOAD HANDLING SYSTEM (LHS) HOOK ARM MANIFOLD REPAIR (CONT).
Middle frame and hook arm combined weight is 2,100 lbs (953 kg).  Attach suitable lifting
device prior to removal to prevent injury to personnel.
NOTE
·
There are two hook arm manifolds.
·
Both manifolds are removed the same way.  Left side shown.
·
Remove cable ties as required.
(1)
Attach lifting device to hook arm (1).
(2)
Turn ON ENGINE switch (2).
(3)
With the aid of an assistant, press middle frame safe lowering button (3) while using lifting device to
raise middle frame (4) up until hook arm pivot pin (5) is above main cylinder (6) and block up middle
frame in two places.
(4)
Remove lifting device from hook arm (1).