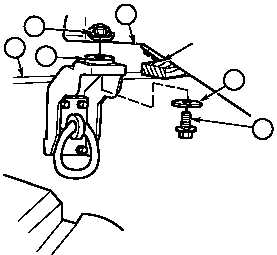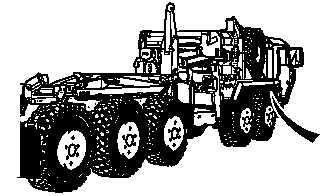 TM 9-2320-364-34-3
13-10     
Materials/Parts
Solution, Soap (Item 67, Appendix B)
Locknut (8) (Item 166, Appendix E)
Locknut (2) (Item 188, Appendix E)
This task covers:
a.  Removal
b.   Installation
c.  Follow-On  Maintenance
INITIAL SETUP
Personnel Required
Two
Equipment Condition
Engine OFF, (TM 9-2320-364-10)
Wheels chocked, (TM 9-2320-364-10)
Tools and Special Tools
Tool Kit, General Mechanic's
(Item 240, Appendix F)
Jack, Hydraulic, Hand (Item 128, Appendix F)
Wrench Set, Socket 3/4 in. Drive
(Item 274, Appendix F)
Wooden Block (2) (Appendix C)
13-4.  REAR CAB SUPPORT REPLACEMENT.
a.
Removal.
NOTE
Both rear cab supports are removed the same way.  Right side shown.
(1)
Remove locknut (1), screw (2) and washer (3) from rear  mount (4).  Discard locknuts.
Cab weighs 1,700 lbs (772 kg).  Use hydraulic jack prior to removal of cab support to
prevent possible injury to personnel.
(2)
Using hydraulic jack, raise rear of cab and install wooden block between frame (5) and crosstube (6).
1
4
5
6
3
2
WOODEN BLOCK