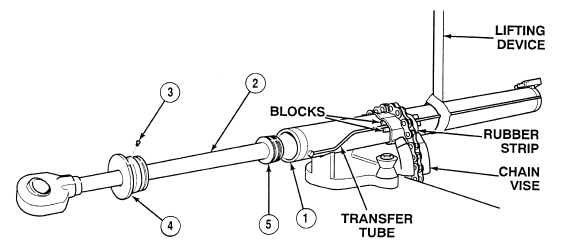 TM 9-2320-364-34-3
17-73
Transfer tube is mounted along axis of cylinder.  Use blocks to protect transfer tube when
clamping cylinder in a chain vise or damage to equipment may result.
(2)
Using lifting device, place cylinder (1) in chain vise using rubber stripping to protect cylinder surface.
Use wooden block to protect transfer tube.
Oil will spray from cylinder manifold ports when rod is moved in or out.  Cover ports with two
cleaning cloths to prevent oil from spraying.  Failure to comply may result in injury to
personnel.
Do not allow threaded or machined surfaces to come in contact with other metal surfaces.
Clearances between cylinder components is very small, any minor damage done during
disassembly could require component replacement or make assembly difficult.
(3)
Position drain pan under cylinder (1).
(4)
Move rod (2) out of cylinder (1) approximately 24 in. (61 cm) and properly support rod (2).
(5)
Remove screw (3) and unscrew rod bearing (4) from cylinder (1).  Discard screw.
(6)
With the aid of an assistant, remove rod (2) and piston (5) from cylinder (1).