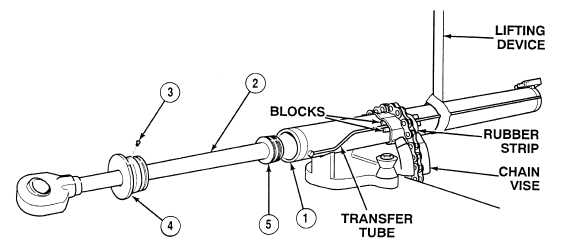 TM 9-2320-364-34-3
17-79
Cylinder weighs in excess of 210 lbs (95 kg).  Attach suitable lifting device prior to installation
to prevent possible injury to personnel.
(12)
Attach lifting device to cylinder (1).
Transfer tube is mounted along axis of cylinder.  Use blocks to protect transfer tube when
clamping cylinder in a chain vise, or damage to equipment may result.
(13)
Using lifting device, place cylinder (1) in chain vise using rubber stripping to protect cylinder surface.
Use wooden block to protect transfer tube.
(14)
With the aid of an assistant, install piston (5) with rod (2) and rod bearing (4) in cylinder (1).
(15)
Install rod bearing (4) in barrel (1) and align bearing to barrel screw hole halves.  If rod bearing was
replaced, drill new screw hole 0.440 in. (11.2 mm) deep using no. 26 drill (0.147 in. [3.73 mm]).
(16)
Install screw (3) in rod bearing (4).
(17)
Using lifting device, remove cylinder (1) from chain vise.
d.
Follow-On  Maintenance:
·
Install hook arm cylinder, (Para 17-12).
END OF TASK