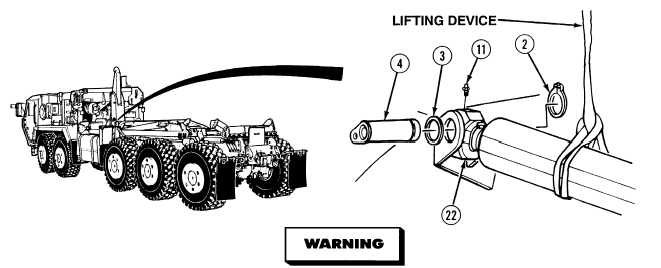 TM 9-2320-364-34-3
17-84     
17-15.  LOAD HANDLING SYSTEM (LHS) MAIN CYLINDER REPLACEMENT (CONT).
(14)
Extend cylinder rod (19) out 1/4 in. (6.4 mm), loosen screw (21) and rotate rod lug (22) so lug bore aligns
with holes in middle frame (18).  Tighten screw (21) to 41 lb ft (56 N.m).
Use care when installing retaining rings. Retaining rings are under tension and can act as
projectiles when released causing injury to personnel.
(15)
When lug bore and middle frame holes align, install rod lug (22) with pivot pin (4), shim (3) and
retaining ring (2).
NOTE
Perform Step (16) if lube fitting was removed.
(16)
Install lube fitting (11) in rod lug (22).