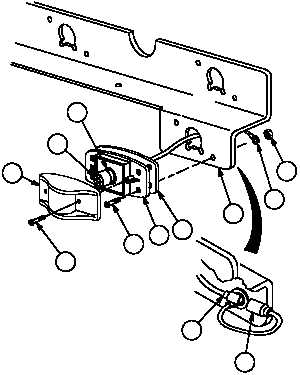 TM 9-2320-364-34-3
18-182
18-13.  CONTAINER HANDLING UNIT (CHU) KIT INSTALLATION (CONT).
Keep all moisture and oils off
lamp. Do not touch lamp with
bare hands. Use a clean dry, oil
free cloth to hold lamp while
installing lamp in blackout light.
(202)
Install gasket (232), blackout light
assembly (233), two screws (234), ground
wire (235) and locknuts (236) on rear
marker light bar assembly (230).
Corrosion inhibitor contains
alkali. Do not get in eyes; wear
goggles/safety glasses when
using. Avoid contact with skin. In
case of contact, immediately
wash area with soap and water. If
eyes are contacted, flush eyes
with large amounts of water for
at least 15 minutes and get
immediate medical attention.
(203)
Apply anti-corrosion silicone compound to
inside of blackout lamp socket (237).
(204)
Install blackout lamp (238) in blackout
lamp socket (237).
(205)
Install lens cover (239) with two screws
(240) in blackout light assembly (233).
(206)
Connect wire 1680 (241) to wire 490 (242).
(207)
Repeat Steps (202) through (206) for
remaining blackout light.
237
238
233232
242
236
230
234
240
241
239
235