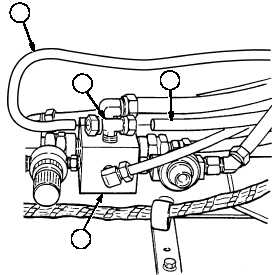 TM 9-2320-364-34-3
18-200
18-13.  CONTAINER HANDLING UNIT (CHU) KIT INSTALLATION (CONT).
Adhesives, solvents and sealing
compounds can burn easily, can
give off harmful vapors, and are
harmful to skin and clothing.  To
avoid injury or death, keep away
from open fire and use in well
ventilated area.  If adhesives,
solvent or sealing compound gets
on skin or clothing, wash
immediately with soap and water.
(288)
Apply sealing compound on threads of tee
(327).
(289)
Install tee (327) on air manifold (325).
NOTE
Air line should be cut to remove
excess without kinking line.
(290)
Cut end of air supply line 2501 (322) and
air line 2133 (323) and install on tee (327).
327
323
322
325