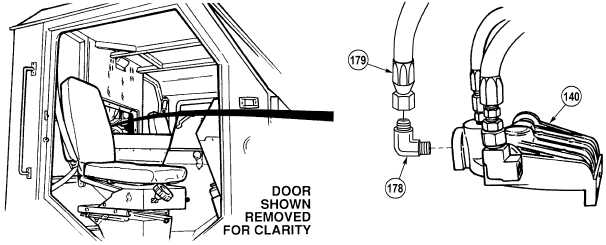 TM 9-2320-364-34-3
18-250
18-14.  CONVERT DDEC II ENGINE ASSEMBLY TO DDEC III ENGINE ASSEMBLY
(CONT).
Adhesive, solvents, and sealing compounds can burn easily, can give off harmful vapors,
and are harmful to skin and clothing.  To avoid injury or death, keep away from open fire
and use in a well-ventilated area.  If adhesive, solvent, or sealing compound gets on skin or
clothing, wash immediately with soap and water.
(113)
Apply sealing compound to threads of elbow (178).
(114)
Install elbow (178) on fuel filter head (140).
(115)
Install fuel line (179) on elbow (178).
NOTE
·
Evenly distribute any slack in harness.
·
Extra clip on DDEC III wire harness may be removed.
(116)
Position DDEC III wire harness (180) on engine.
TURBO
BOOST
SENSOR
COOLANT
TEMP SENSOR
SRS

SENSOR
TRS

SENSOR
FUEL TEMP
SENSOR
OIL PRESS
SENDER
ECM
OIL TEMP
SENDER
180