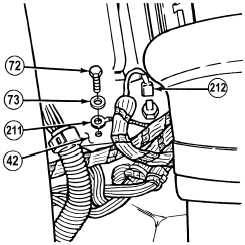 TM 9-2320-364-34-3
18-259
(149)
Install wire 1957 (209) and wire 1955 (210) on
pressure switch (78) with two screws (75).
(150)
Install shield wire (211), washer (73), and
screw (72) on engine (42).
Corrosion compound contains alkali.
Do not get in eyes; wear safety
goggles/glasses when using.  Avoid
contact with skin.  In case of contact,
immediately wash area with soap and
water.  If eyes are contacted, flush with
large amounts of water for at least 15
minutes and get immediate attention.
(151)
Coat screw (72) with corrosion
preventative compound.
(152)
Install wire 1716 (212) on engine (42).
(153)
Install wire 1715 (213) on engine (42).