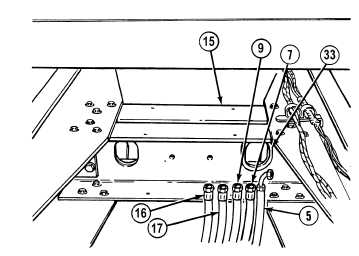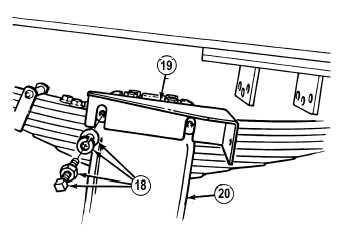 TM 9-2320-364-34-3
13-44     
13-10.  REAR TANDEM CROSSMEMBER/GUSSET REPLACEMENT (CONT).
NOTE
Ensure locknuts on setscrew
assemblies are backed off.
(7)
Install two brackets (19) on spring mounts
(20) with four set screws assemblies (18).
Tighten locknuts on set screw assemblies
until lockwashers are compressed.
Adhesives, solvents, and sealing
compounds can burn easily, can
give off harmful vapors, and are
harmful to skin and clothing.  To
avoid injury or death, keep away
from open fire and use in well-
ventilated area.  If adhesive,
solvent, or sealing compound
gets on skin or clothing, wash
immediately with soap and
water.
(8)
Apply adhesive to quick edge (33).
(9)
Install quick edge (33) in right side of rear
tandem crossmember (15).
(10)
Position air lines, 2338 (7), 2872 (5), 2144
(16), 2368 (17) and vent line 2893 (9)
through quick edge of rear tandem
crossmember (15).