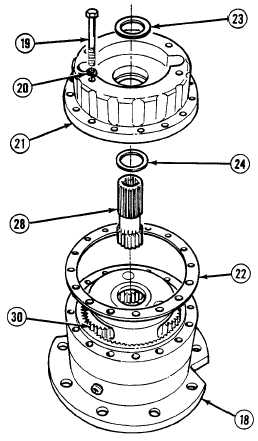 TM 9-2320-364-34-4
28-57
(31)
Install oil seal (23) in end cover (21).
(32)
Install sun gear (28) and race (24) in swing
drive gear reducer (18)
(33)
Align matchmarks and position end
cover (21) on swing drive gear reducer (18).
NOTE
Movement is checked through
hole in end cover.
(34)
Check for free movement by moving
planetary assembly up and down with sun
gear (28).
(35)
If no movement is felt, install shims (22) in
progressions of 0.002 in. (0.05 mm) until
movement is felt.
Adhesives, solvents, and sealing
compounds can burn easily, can
give off harmful vapors, and are
harmful to skin and clothing.  To
avoid injury or death, keep away
from open fire and use in well-
ventilated area.  If adhesive,
solvent, or sealing compound
gets on skin or clothing, wash
immediately with soap and
water.
(36)
Apply sealing compound to threads of 16
screws (19).
(37)
Install end cover (21) with 16 lockwashers
(20) and screws (19).  Tighten screws to 55
lb-ft (74.6 N.m).