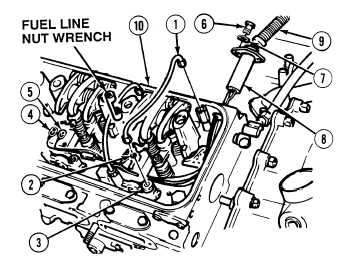 TM 9-2320-364-34-4
20-51
This task covers:
a.  Removal
b.   Follow-On Maintenance
INITIAL SETUP
Materials/Parts
Tags, Identification (Item 72, Appendix B)
Equipment Condition
Engine brake retarders removed, (Para 20-14)
Tools and Special Tools
Tool Kit General Mechanic's
(Item 240, Appendix F)
Cap and Plug Set (Item 26, Appendix F)
Wrench, Fuel Line (Item 270, Appendix F)
20-15.  FUEL INJECTOR REMOVAL.
a.
Removal.
Fuel is very flammable and can explode easily.  To avoid serious injury or death, keep fuel away
from open fire and keep fire extinguisher within easy reach when working with fuel.  Do not
work on fuel system when engine is hot. Fuel can be ignited by hot engine.
NOTE
·
Tag and mark parts during
removal.
·
Cap and plug lines and
connectors during removal.
·
There are eight fuel
injectors.  All fuel injectors
are removed the same way.
(1)
Using fuel line nut wrench, remove two fuel
lines (1) and four preformed packings (2)
from connectors (3).  Discard preformed
packings.
NOTE
Wire terminal retaining screws
are designed to be loosened, not
removed.
(2)
Loosen wire terminal retaining screws (4) on
fuel injectors (5).
(3)
Remove two screws (6), washers (7), flange
with gasket (8) and wire harness (9) from
cylinder head (10).  Discard gasket.