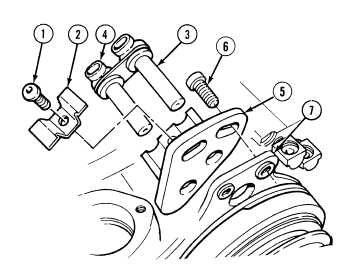 TM 9-2320-364-34-4
20-53
This task covers:
a.  Removal
b.   Follow-On Maintenance
INITIAL SETUP
Equipment Condition
Fuel injectors removed, (Para 20-15)
Tools and Special Tools
Tool Kit, General Mechanic's
(Item 240, Appendix F)
20-16.  TIMING AND SYNCHRONOUS REFERENCE SENSOR (TRS/SRS) REMOVAL.
a.
Removal.
(1)
Remove screw (1), bracket (2), timing
reference sending unit (3) and synchronous
reference sending unit (4) from bracket (5).
(2)
Remove two screws (6) and bracket (5) from
front plate (7).
b.
Follow-On  Maintenance:
·
Remove air box covers, (Para 20-17).
END OF TASK