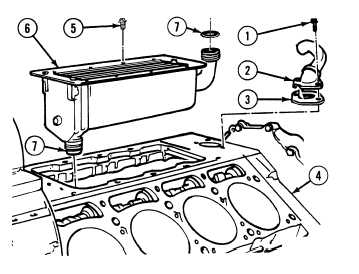 TM 9-2320-364-34-4
20-59
This task covers:
a.  Removal
b.   Follow-On maintenance
INITIAL SETUP
Equipment Condition
Blower drive assembly removed, (Para 20-20)
Tools and Special Tools
Tool Kit, General Mechanic's
(Item 240, Appendix F)
20-21.  AFTERCOOLER REMOVAL.
a.
Removal.
(1)
Remove two screws (1), aftercooler outlet
elbow and tube (2) and gasket (3) from
engine block (4).  Discard gasket.
NOTE
Lift aftercooler straight up and
then tilt to allow outlet to clear
engine block.
(2)
Remove eight lockscrews (5) and
aftercooler (6) from engine block (4).
Discard lockscrews.
(3)
Remove four preformed packings (7) from
aftercooler (6).  Discard preformed
packings.
b.
Follow-On  Maintenance:
·
Perform aftercooler inspection, (Para 20-56).
·
Remove water pump assembly, (Para 20-22).
END OF TASK